My weekly video podcast, Breakthrough Email Marketing Show, is now on iTunes.
While it's best to watch it live every Thursday at 3pm Pacific/6pm Eastern to ask questions, you can now make sure you have every show right in iTunes for easy listening at your leisure.
Every week I will be talking about all things email marketing based on over 18 years of proven results -- not gueswork!
This is also based on over one billion emails sent, and I currently send over 3 million emails every week.
The bonus is that many of these emails are in niches outside of "make money online".
If you want to do me a favor, follow these short steps to rate my iTunes podcast and leave me a review.
Step 1: Open Up iTunes and search for "breakthrough email marketing" after clicking "iTunes Store".
Step 2: Click on my Breakthrough Email Marketing Show underneath "Podcasts" in the search results.
Like so: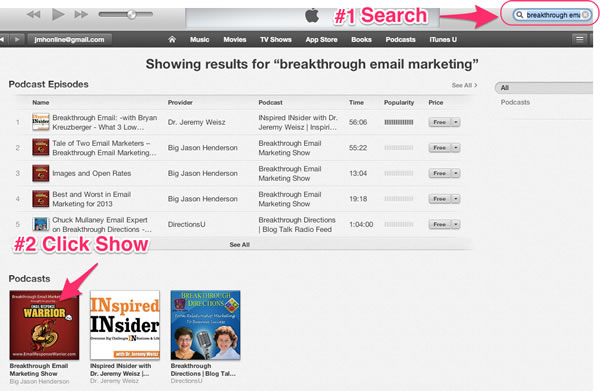 Step 3: Click the "Subscribe" button underneath my podcast icon.
Strep 4: Click "Ratings and Reviews"
Like so: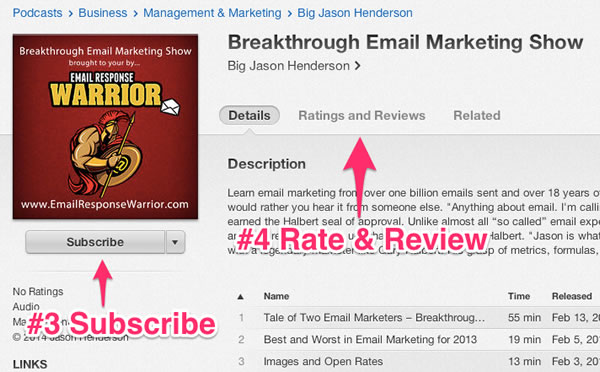 Step 5:  Rate It
Step 6: Review It
There you go. Really appreciate you checking out my podcast and helping me spread the word.
If you want  direct link to the Breakthrough Email Marketing Podcast, click this link to go there now.
Talk soon,
Big Jason